The Handroid
The "Handroid" is a remotely-operable five-finger movable robot hand.It can be used in engineering environments which are inaccessible or dangerous to human hands. Most of the existing robot hands do not use all five fingers. Other Five-finger models usually have servomotors in each joint in the fingers, which makes the robot hand heavy, complicated and expensive.ITK developed the Handroid lightweight and cheap, restricting it to basic hand. However, the range of movement does not restrict the Handroid's capabilities and it should be able to perform to the needs of its users. Therefore, ITK used our advances in metalworking techniques and applied metals used in aircraft parts, which made the Handroid lightweight, durable and has fluid motion. We have also developed a glove-type controller that remotely controls the Handroid by mimicking the operators hand movements.Furthermore, it is under development to be applied as a prosthetic hand, controllable by myoelectric, brain waves, and cerebral nerves.The Handroid will go beyond your expectations and will continue to be developed for further engineering and medical procedures.
2ndroid
TM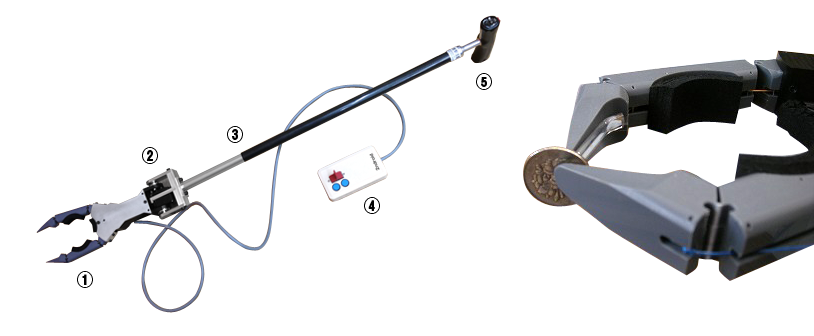 ① Two fingers open/close (resin・non-slip finishing)
② Wrist joint (tilt-featured)
③ Expansion and contraction (Aluminum・carbon fiber, internally-located screw mechanism) Stroke width 40cm
④ Controller (Blue button・opening and closing fingers) (Red lever・tilting)
⑤ Grip (switch for expansion and contraction)
There are various sizes and configurations for the existing "Magic Hands", but most of them only have a single feature; opening and closing the clicks. They are cheap and absolutely responsible for the usage by an able-bodied person. However, they usually do not have wrist joint feature, and, if a user is seated in a wheelchair, he sometimes cannot grab objects as the clicks cannot be leveled if he has to hold the Magic Hand higher than his shoulder level.
Robot arms attachable to wheelchairs have been developed worldwide. Some have been put to practical use, but impractical as they are very expensive. We have therefore developed the "2ndroid", implemented the re-examination of the concept of the Hand Arm with the investigation of the market and users' needs.
For inquiries, information, and purchase, click here.
IWATA TEKKOSHO CO.,LTD  319 Arai, Masaki-cho, Hashima-shi, Gifu 501-6225 Japan TEL:058-392-4525 E-mail:info@itk-pro.com