Electric expansion and contraction stick「KODUECHAN」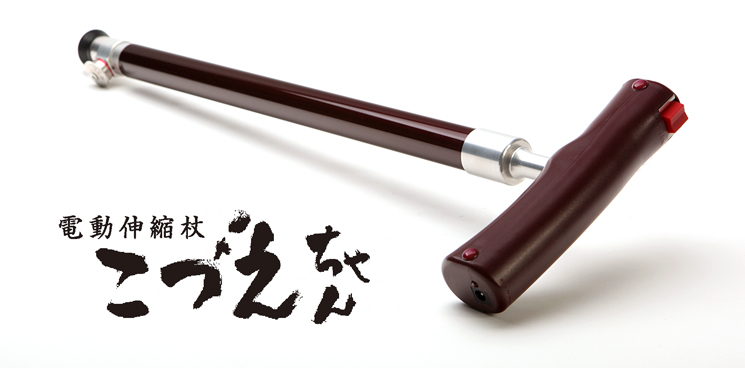 ★I met the voice of the visitor that と said electric expansion and contraction stick "SHINSUKESAN" to size to be delivered to a traveling bag more compactly.
I developed technical application of "SHINSUKESAN" and new mechanism and came true. As for the weight, as for 380 g of length, the 45cm – 95cm length adjustment can expand and contract with one switch between 70cm – 95cm freely.
As for the perpendicular load, 100 kg and others, the convenient function are equal to "SHINSUKESAN".
The downloading of the instruction manual (provisionally) PDF is this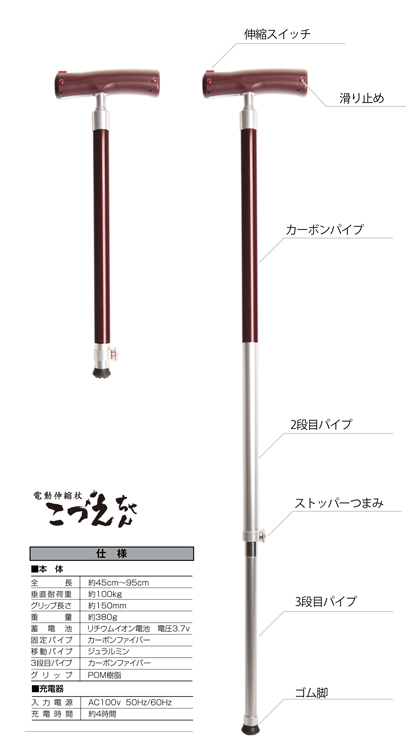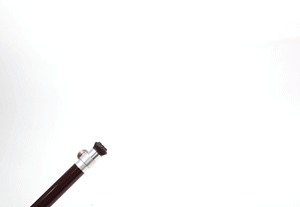 ★①I draw it until I hear a sound having a tip rubber part with a click.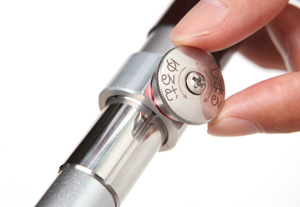 ★②I close it until I turn a stopper knob, and a red mark disappears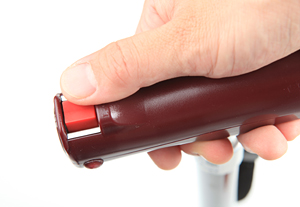 ★③I adjust the switch right side of the grip to length of the push fitness

WEBサイト限定 名入れサービス(無料)
★伸助さん・こづえちゃんへの名入れは無料です。(のび太くんへの名入れは有料となります)
※漢字ひらがなカタカナ6文字まで、ローマ字は8文字まで入れられます。
電話番号も入れられます。
(書体はHGP行書体になります)
★The purchase of the product is this
KODUECHAN wine red(WR)

★落ち着きのある上品なワイン色。新色です。深みのある ワイン色にパールが混じり、光に照らされると美しく輝きます。 高級感漂う一品です。 


Electric expansion and contraction stick「KODUECHAN」(色:ワインレッド)
28,000円(税込み)
※19,999円以上のお買い上げの場合送料・代金引換手数料無料です。
KODUECHAN Pearl Black (BK)

Pearl Black is a luxury color commonly used on the shafts of golf clubs, making the appearance chic and beautiful. Men or women can use it for any occasion, casual or formal. The SHINSUKESAN Pearl Black is beautifully finished by professionals.

電動伸縮杖「こづえちゃん」(色:パールブラック)
28,000円(税込み)
※19,999円以上のお買い上げの場合送料・代金引換手数料無料です。
Guidance of expendable supplies
KODUECHAN Exclusive rubber leg

★It is a rubber leg for exclusive use of "one of electric expansion and contraction stick KODUECHAN".

Three rubber leg sets (dimple type) 2,100円(税込み) ★※19,999円以上のお買い上げの場合送料・代金引換手数料無料です。
KODUECHAN Exclusive battery charger

★It is a battery charger for exclusive use of "one of electric expansion and contraction stick KODUECHAN".

AC adapter(KODUE battery charger) 1,155円(税込み) ★※19,999円以上のお買い上げの場合送料・代金引換手数料無料です。
★「こづえちゃん」よくある質問Q&A
Q1:受付メール(自動返信)が届きません。

A:メールアドレスは間違っていませんか?
迷惑メールフォルダに入っていないかご確認をお願いします。

当サイトは通常ご注文から翌々営業日以内に、ご注文確認メールを必ず送信しております。現在、当サイトからのご案内メールが正常に受信できないとのご連絡を多くいただいております。原因としては、フリーメールに関わらずプロバイダーによってサーバー側にセキュリティ強化等の理由により当サイトからのメールが迷惑メールと判断されている可能性がございます。お手数をおかけしますが、info@itk-pro.comからのメールを受信できるよう設定変更をお願いします。万が一、メールが届かない場合は大変恐縮ではございますが、他のメールアドレスまたはお電話にてお問い合わせいただきますようお願い申し上げます。

Q2:店頭販売しているお店はありますか?

A:弊社直接又は、ライトアップショッピングクラブにて販売しております。

Q3:支払請求先と送り先を別にできますか?

A:銀行振込でしたら可能です。

Q4:代引き手数料はいくらかかりますか?

A:こづえちゃんの購入の場合は、19,999円以上のお買い上げとなり、代引き手数料・送料無料となります。

Q5:宅配業者はどこを使用していますか?代引きの場合クレジットカードは使用できますか?

A:クロネコヤマト運輸さんです。代引きの場合クレジットカードのお取り扱いはしておりません。ご了承ください。

Q6:障害者1級の割引対象になりますか?

A:現在、障害者1級・その他の割引は行っておりません。
また、介護保険の対象ともなっておりません。

Q7:「こづえちゃん」は充電式ですか?充電池の寿命はどのくらいですか?

A:「こづえちゃん」には、リチウムイオン電池が内蔵されており、杖の柄部分に付属のACアダプターを接続し、
家庭用コンセントに差し込むだけで充電が可能です。(フル充電・約4時間)
内臓の充電池の寿命がきた場合は、弊社までご郵送いただき、有料にてお取替えしております。
ちなみに、充電池の寿命は、伸縮回数10000往復以上です。
長期間使用しないときは、フル充電の状態で保管して下さい。
(リチウムイオン電池の特徴) 電池の交換は、部品交換費(電池代込み)として5,000円(送料別)いただいております。

Q8:海外での使用はできますか。

A:「こづえちゃん」は充電式ですが、電池内蔵式で交換式ではありません。
充電の際は杖グリップ後部にある専用ジャックに,付属されていますACアダプターを差込み、家庭用電源で充電をおこないます。
海外で使用の際は、国ごとでプラグ形状や電圧が異なるため、日本の電化製品はそのままでは使うことはできません。
充電の際は、海外用のプラグ、変圧器が必要となりますが、弊社では日本国内での使用のみを想定しており、
日本国内とは異なるプラグ形状および電圧での充電に関しては保障は致しかねます。

Q9:杖先ゴムは一般に販売しているモノと交換できますか?また先ゴムが減った場合、付け替え可能でしょうか?

A:「こづえちゃん」の先ゴムは出来るだけ滑り難くする為に、根元は硬く・接地面は柔らかく、設計・製作しました。
また杖の振り出しを軽くさせる為、軽量になっています。
またパイプ形状も一般の杖と形状が異なる為、一般に販売している先ゴムとは交換できません。
「こづえちゃん」を購入されますと、替えのゴムが1つ付属されます。
また、付け替え用のゴムは、3個セット\2,100(税込)にて販売いたしております。
ご注文について
追加・キャンセルについて


ご注文後の追加・キャンセルも承りますので、その際はこちらから発送のご連絡を差し上げた発送日の当日AM10:00までにご連絡ください。

輸送中の破損等

輸送中の事故による破損の場合、 商品到着後できるだけ早く、7日以内にご連絡ください。
調査の上、折り返し良品をお送りいたします(送料当方負担)。

返品について

返品・交換の際は、先に荷物を送らずに、まずはメールフォームまたはお電話(058-393-0780)でご相談ください。

お客さまのご都合で返品・交換される場合

商品到着後7日以内にご連絡の上、送料お客さま負担でご連絡後2~3日程度でご返送ください。
返品到着後、7営業日以内に、お客さま指定口座にご返金いたします。
(ただし振込手数料、振替手数料は、お客さまのご負担といたします)
交換の場合、お客様からの返品商品を確認してから、交換商品の発送となります。

初期不良

原則、商品到着から7日以内に、ご相談ください。

ご返金の方法)

返品等により、後日、お客様へ返金する場合は、銀行振込・郵便局振込でさせていただきます。
他の方法での返金はいたしませんので、何卒ご了承くださいませ。