HANDY SPLICER
FEATURES 特点
* Accurately and quickly cut and join carrier tape.
* Lightweight, compact easy to carry on a strap.
* Easily place on machines and equipment with included magnet.
* ESD prevention on exterior and head.
* Anyone can easily exchange the cutter blade and plate.
・准确并迅速地进行料带的"剪切"、"拼接"。
・因为轻而小型,所以可以使用挂绳携带。
・使用附带的强力磁铁,可以固定在机器或周边装置上。
・外壳、主要部分为防静电设计。
・无论谁都可以轻松更换刀片或衬板。
取り扱い説明書 Instruction Manual 使用说明书


Flyer 传单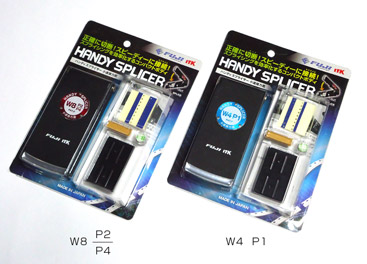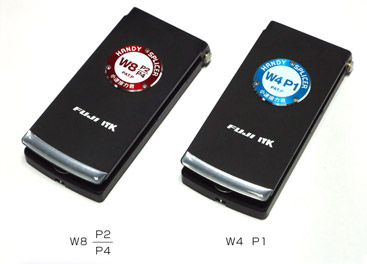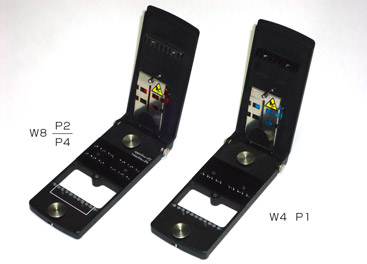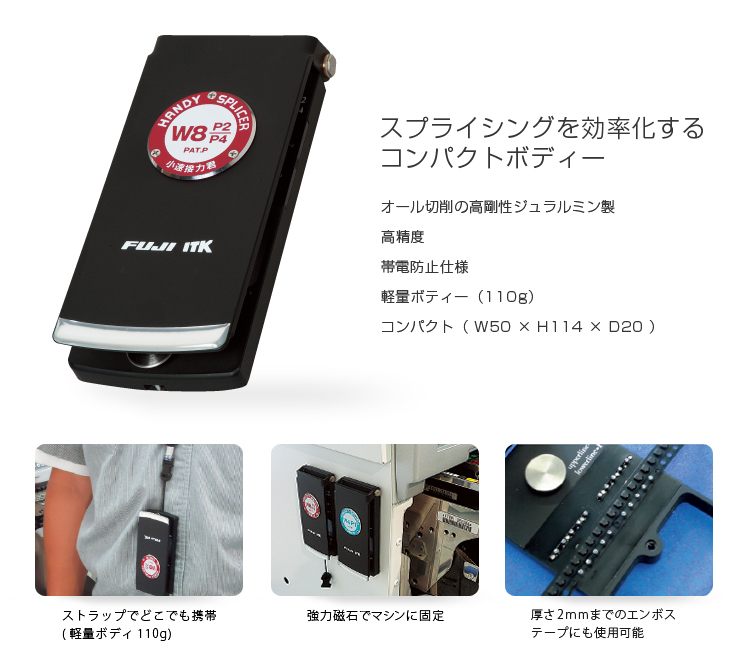 使用方法 OPERATION 使用步骤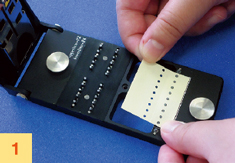 Set the splicing tape on the splicing sec-
tion without peeling off the cover tape. (Set dotted folding section at the top and carefully set the tape on the pins)
请不要撕掉胶带的表层纸,安装到拼接位置上。(胶带孔对准凸起部分轻轻压入)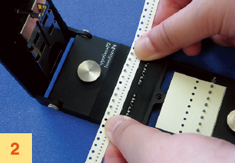 Set the carrier tape from the machine
on the lane of the cutting section that matches the pitch.
将料带对准孔间距安装到切割位置上。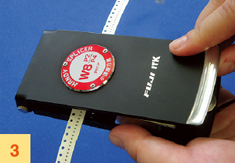 Lower the top plate and cut the tape. Push the eject button and remove the tape. Cut the new carrier tape.
将翻盖放下即可完成料带切割。按下弹出按钮拆除料带,然后按同样的方法切割新料带。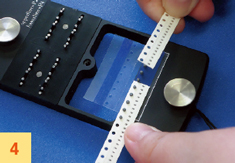 Peel off the cover tape from the splicing tape. Set and align the cut carrier tapes.
撕掉胶带的表层纸后,将料带的切割部分对齐并压住。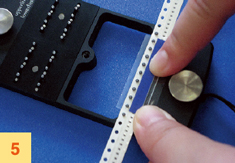 Fold the splicing tape at the dotted section and push down firmly.
沿着胶带的虚线部分对折并粘好。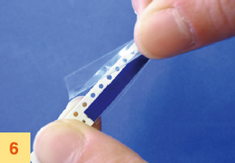 Push the eject button and remove the tape. Push down firmly on the back of the tape and peel off the plastic film.
按下弹出按钮拆除料带,将背面粘好并撕掉塑料薄膜。
付属品 ACCESSORIES 配件
Handy Splicer・・・・・・1 unit
Blades・・・・・・・・・・・5
Plates・・・・・・・・・・・・2
Magnets・・・・・・・・・・1
Splicing tape・・・・・・10
便携式接料器・・・・・・1台
刀片・・・・・・・・・・・・・5片
衬板・・・・・・・・・・・・・2张
磁铁・・・・・・・・・・・・・1个
胶带・・・・・・・・・・・・・10张
 IMPORTANT POINTS
* Use only the dedicated Handy Splicer splicing tape. * Do not use to cut anything other carrier tape.
* Absolutely never touch the cutter cover. * Use a #0 Phillips screwdriver when exchanging blades.
* Be careful with the included magnet. * This is precision equipment. Be careful to not drop it.
・请使用便携式接料器专用胶纸。 ・请不要使用于除了料带以外的剪切。・请注意不要触碰刀片。 ・请使用#0十字螺丝刀更换衬板。
・请注意使用附带的强力磁铁。 ・本产品是精密器材,请注意不要摔坏。

宁波锦申进出口有限公司
浙江省宁波市海曙区华楼街8号世纪广场C座2501室 联系电话:0574-87065276 0574-87240360 传真号码:0574-87240408
联 系 人 : 伊藤正博 13566633875 itonyi@hotmail.com 周海亚 13586856664 verazhou83@gmail.com